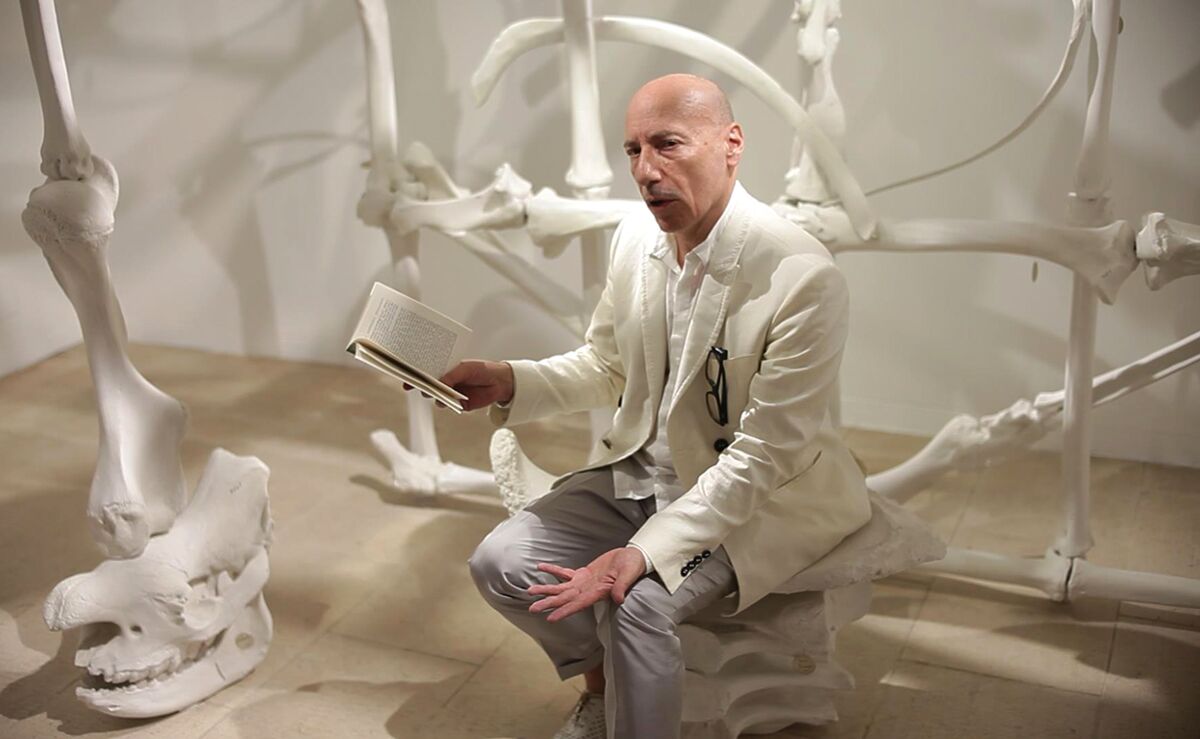 M'Fumu, 2015
Cast ceramic plaster, ink, steel, 250 x 220 x 150 cm.; book (King Leopold's Soliloquy by Mark Twain) Performance, King Leopold's Soliloquy, 6-7-8 May 2015.
During the three days of the opening of the Venice Biennale, an actor read Mark Twain's book King Leopold's Soliloquy.
"Tramline 44 in Brussels runs from Montgomery Square to the village of Tervuren, 12 kilometers away. It symbolically joins two separate worlds: Europe and Africa, Belgium and Congo, center and periphery, colonizers and colonized. It was built by Belgium's King Leopold II for the Universal Exposition of 1897 to connect the main venue of the fair at Cinquantenaire Park with the Palais des Colonies, which in 1908 became the Musée du Congo Belge and finally in 1960 the Royal Museum for Central Africa, showcasing the spoils gleaned by the king from his personal property, the Congo Free State.
Benassi's work for the Belgian Pavilion, M'Fumu (2015), pays homage to Paul Panda Farnana (1888– 1930), aka M'Fumu, a Congolese intellectual and activist whose thoughts and actions marked relations between Belgium and the Congo between the two World Wars. He was the first Congolese to receive a higher education in Belgium, fought in World War I, and in 1919 founded the Union Congolaise. He was active in the Pan-African movement and helped organize the 2nd Pan-African Congress in Brussels in 1921. M'Fumu's intellectual contribution remains among the most lively, original, and contradictory of the Belgian colonial affair.
Benassi's tribute to M'Fumu takes the form of a ghost tram stop, executed as the "skeleton" of an imaginary shelter. It is constructed from casts of bones of exotic wild animals from the collection of the Royal Museum for Central Africa, a visually haunting and uncanny gesture that alludes to the exploitation of the natural world. In an act of restitution, the skeletons of this dark history of killing and violence remind us of one of the colonial era's most enlightened black figures.
The ghost stop is also a metaphorical shelter, taking under its protection "the others"—those who disappeared in the margins of colonial history— and letting their ghosts return to the world from which they were once excluded. It is a place for contemplation and the suspension of time, as well as a monument against amnesia." Katerina Gregos
Courtesy the artist and Magazzino, Rome